24 Feb

Is Your Drive Shaft in Need of Repair? A Carol Stream Transmission Repair Company Weighs In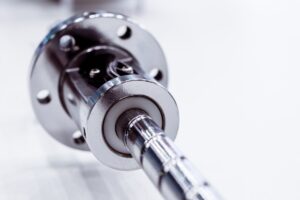 A vehicle's drive shaft is responsible for transferring power from its engine to its axles. Unfortunately, like all car components, it can take on problems over time. When this occurs, the functionality of the vehicle can reduce drastically.
For this reason, it's important that you're able to spot drive shaft problems early, before they cause damage that can't be reversed.
Are you wondering if your drive shaft needs to be repaired? Then read below. This Carol Stream drive shaft and transmission repair company is going to help you make that determination.
Is Your Vehicle Vibrating Excessively?
One sign that your drive shaft might be impaired is that your vehicle is vibrating excessively. This vibration is likely to come from under the passenger seat, in particular, and it's a serious cause for concern.
There are other problems that can lead to excessive vehicle vibration, but an impaired drive shaft is the most common. Generally speaking, it's caused by broken or worn-down U-joints.
If you're experiencing this problem, we recommend having your vehicle checked out by a drive shaft and transmission repair specialist as soon as possible. Allowing it to persist could result in long-term issues.
Is Your Vehicle Having Trouble Turning?
Another sign that your drive shaft might be impaired is that it's having trouble turning. If you feel like you need to put all of your weight into the steering wheel to make a turn, there's undoubtedly something wrong with your vehicle. Your vehicle should turn with only a slight push or pull of your hand.
Again, if you're dealing with this problem, there's most likely an issue with the U-joints. Either they're broken down, or they're severed entirely.
You should have these replaced sooner rather than later. The longer you wait to replace them, the more damage your vehicle will take on. Call your local Carol Stream transmission repair shop to schedule an appointment right away!
Is Your Vehicle Making Clunking Noises?
When you go to shift your vehicle, does it make a loud clunking noise before popping into place? If so, this is undoubtedly a problem.
While this can indicate a number of issues (including problems with your transmission), it's often indicative of a bad drive shaft. Again, worn-down U-joints are typically the source of the problem.
Fortunately, the fix is fairly straightforward. All you need to do is call your local transmission and drive shaft repair specialist. He or she will be able to locate the source of the problem, repair it, and have you back on the road in no time.
Is Your Vehicle Shaking When Accelerating?
One last sign of an ailing drive shaft is that your vehicle shakes during acceleration. If your vehicle shakes lightly for the first few seconds when you press down on the gas pedal, there's a decent chance that the drive shaft is to blame.
Again, the U-joints are likely the culprit. Note, however, that a number of other sub-components could be at fault as well.
In any case, it's recommended that you have your vehicle inspected by a drive shaft repair specialist as soon as possible. He or she can test your vehicle to determine the source of the issue, then perform any repairs that are necessary.
In Need of a Carol Stream Drive Shaft and Transmissions Repair Shop?
Is your drive shaft experiencing any of these issues reviewed above? Are you looking for a Carol Stream drive shaft and transmission repair shop? If so, we here at King Transmission have you covered.
We've repaired countless drive shafts over the years. If you're in the Carol Stream area, our team would be more than happy to help you.
Contact us today to schedule an appointment!