08 Jun

How to Tell If You Need Drive Shaft Repair: Insights from a Transmission Repair Shop in Oak Brook, Illinois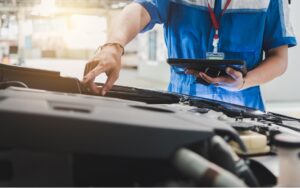 The drive shaft is one of the most vital components in an automobile. It takes power from the engine and transfers it to the wheels, allowing the vehicle to move.
Unfortunately, over time, the drive shaft can incur substantial amounts of wear and tear, causing it to become broken or damaged. When this occurs, drive shaft repair becomes necessary.
Are you wondering whether your vehicle needs a drive shaft repair in Oak Brook, Illinois? Here are some signs that it does:
Are You Having Trouble Turning the Wheel?
One sign that you might be having trouble with your drive shaft is that you're having difficulty turning the wheel. If you feel that you have to put all your body weight into a turn, there is undoubtedly something wrong with your vehicle. Your drive shaft is the most likely culprit, but other problems could be at hand as well.
Odds are, it's the U-joints that are to blame. These tend to wear down over time and, in some cases, they can become severed entirely. If you don't replace them in a timely manner, they can subject your vehicle to substantial wear and tear, causing a great deal of undue damage.
If your vehicle is difficult to turn, it's recommended that you have it inspected by an auto repair mechanic in Oak Brook, Illinois.
Is Your Vehicle Squeaking?
Another sign that might indicate a problem with your drive shaft is a squeaking noise coming from your vehicle. This is particularly true if the noise gets faster as your vehicle accelerates.
Why does a bad drive shaft create a squeaking noise? In most cases, it's because the components are loose and are jostling up against one another in a rapid manner. When this happens, a squeaking noise is inevitable.
Now, what does this problem signify exactly? It could be several things, from bad bearings to broken U-joints and more. In any case, it's best that you have your vehicle inspected by a professional mechanic. They will be able to determine the source of the noise and make any necessary repairs.
Is Your Vehicle Vibrating More Than Normal?
Does your vehicle vibrate while you're stopped at a stop sign? If so, and if this vibration is coming from the undercarriage of the front end of your vehicle, you could very well be dealing with drive shaft issues.
In most cases, bad U-joints are the cause of this vibration. Note, though, that bad carrier bearings and couplers can cause this as well.
Regardless, you should have your vehicle serviced by an Oak Brook auto repair specialist. Allowing this problem to persist can result in even more severe damage, costing you hundreds or even thousands of additional dollars in the process.
Does Your Vehicle Shake When Accelerating?
When you press your foot on your gas pedal, do you feel the car shaking as you accelerate? If so, you could be dealing with drive shaft issues.
The reason that a vehicle with a bad drive shaft might shake while accelerating is that its U-joints or other components are loose or broken. As such, inertia is causing them to rapidly rattle back and forth.
This might seem like a minor problem, but it's often a sign of worse things to come. As such, it's best to have it fixed by a mechanic as soon as possible.
Do You Need a Transmission Repair in Oak Brook, Illinois?
Are you experiencing issues with your transmission? Are you looking for a drive shaft repair service in Oak Brook, Illinois? If so, look no further than King Transmission Company.
Our experts have repaired countless drive shafts throughout the Oak Brook area. Regardless of the make, model, and year, we can have your vehicle running smoothly again in no time. Contact us to request a free quote.