08 Mar

How to Choose the Right Transmission Repair Company in Wheaton, Illinois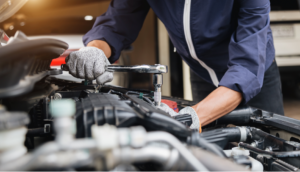 When it's time to have your car's transmission repaired, you should only turn to the best. The transmission is one of the most important components in an automobile, and to have it worked on by an inexperienced or unqualified mechanic could be a big risk.
What you might be wondering now is: how do you choose the right transmission repair company in Wheaton, Illinois? We are going to discuss some of the main factors you'll want to consider below.
Make Sure It Has Some Experience
When it comes to transmission repair, experience is of utmost importance. Transmissions are complex entities and can only properly be repaired by the most skilled and knowledgeable of technicians. When choosing a transmission repair company, you need to make sure that it has adequate experience.
Experience matters not only for the quality of the repair but for the quality of the business transaction. Companies with ample experience have their business processes perfected, and they can provide the best customer experience possible.
We recommend choosing a Wheaton transmission repair company with a minimum of two years of experience. Note, however, that the more experience a company has, the safer bet it will be for you.
Ensure That It Hires Certified Technicians
As was noted above, working on auto transmissions can be difficult. It shouldn't be done by any ordinary individual. Only individuals who have spent extensive time working with transmissions should lay their hands on your transmission.
It's important to ensure that your chosen company technicians are certified. Certified technicians have proven their capabilities and are known to be able to perform transmission-related repairs as needed.
What type of certification is most important? ASE (Automotive Service Excellence) certification. Make sure to inquire about this before signing any contracts.
Make Sure That It Can Accommodate Your Vehicle
You might not realize it, but not all transmission repair companies in Wheaton, Illinois work with all vehicles. Whereas some are generalists who will make repairs to all vehicles that come their way, others specialize in specific types of vehicles. For instance, some only work with European-made vehicles.
The goal for you is to find a company that can properly cater to your specific vehicle. If you drive something standard like a Toyota Corolla, a generalist will suit you fine. If your vehicle is a high-end model, or if it's not common in the United States, you would probably be better off utilizing the services of a specialist.
Ask for Cost Estimates
Not all transmission repair companies in Wheaton, Illinois charge equal rates. In fact, their rates can vary wildly. As such, before choosing a specific transmission repair shop, you need to make sure that its costs align with your budget.
How can you determine this? By asking for cost estimates. Call the Wheaton transmission repair companies you're considering and tell them what kind of work your vehicle requires. Then, ask for a quote for that job. Any reputable repair company will provide you with an itemized quote as requested.
If a company doesn't provide you with a quote, you should avoid it. Utilizing transmission repair services without having first received an estimate is risky, and could set your budget back substantially
Looking for the Best Transmission Repair Company in Wheaton, Illinois?
Are you searching for a reputable transmission repair company in Wheaton, Illinois? If so, there's no need to look further — King Transmission Company is the top choice.
Our transmission mechanics are experts in all aspects of transmission repair. Regardless of your needs, we have you covered. Contact us today to get started.