08 Feb

Transmission Repair Company in Hillside, Illinois: When Is It Needed?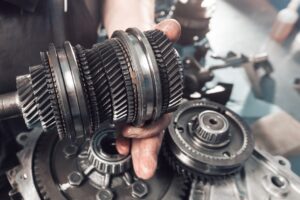 A vehicle's transmission is vital to its overall operation. If the transmission goes bad, the vehicle will have a very difficult time functioning. If it's not repaired or replaced in a timely manner, it can put severe strain on the vehicle as a whole, leading to a complete breakdown.
For this reason, it's important to be aware of the signs of transmission problems so that you can identify them early in their existence. Are you wondering whether you need a transmission repair in Hillside, Illinois? Here are some signs that you do:
When Your Transmission Fluid Is Black
In its prime state, transmission fluid should have a reddish-brown color. However, as time passes, and as your transmission fluid sees more use, it begins to burn. As such, it eventually takes on a black color and a tarry consistency.
Unfortunately, once it reaches this point, it's no longer able to lubricate your transmission as needed. As such, it will need to be replaced. If your transmission fluid is showing up as black on your dipstick, it's recommended that you make a change as soon as possible.
Need help making a change? Your local transmission repair company can help you with the task.
When Your Transmission Fluid Has a Burnt Smell
Bad transmission fluid doesn't just have a burnt appearance — it has a burnt smell as well. Again, this occurs because it's used repeatedly over the span of many years. It's just a natural part of its lifecycle.
Therefore, if you notice a burning smell coming from your vehicle, there's reason to believe that your transmission is the culprit. Yes, it could be other components, but this one is fairly common.
Regardless, it's best that you have your vehicle inspected by a professional repair technician as soon as possible. He or she will be able to flush your bad fluid and replace it with new fluid.
When Your Vehicle Delays While Accelerating
Another sign that your transmission might need to be repaired is that your vehicle is delaying while accelerating. This typically presents itself as a gliding feeling followed by a sudden jolt. It can happen whether your vehicle is already moving or is starting from a dead stop.
Generally speaking, what's causing this to occur is a lack of lubrication in the transmission's gear set. Note, however, that structural and mechanical damage could be the culprits as well.
Regardless of the cause, if you're experiencing this issue, it's strongly recommended that you have your vehicle inspected by a professional mechanic. Take it into your local transmission repair shop and find out what they recommend.
When Your Transmission Fluid Is Leaking
A sure sign that you need a transmission repair is that your transmission fluid is leaking. If this is occurring, it's because there's damage somewhere in your transmission. Either gaskets are broken, structural components have worn down, or something similar has occurred.
Your transmission needs lubrication. If it runs without it, it will wear down fairly quickly and will eventually cease to function. If this happens, you'll likely need to have it replaced, which will set you back thousands of dollars.
Instead, you should bring your vehicle into a local Hillside transmission repair shop. They will be able to determine what's wrong with your transmission, and then take action to repair the problem.
Do You Need a Transmission Repair Shop in Hillside, Illinois?
Is your transmission no longer running smoothly? Do you need a transmission repair in Hillside, Illinois? If so, we here at King Transmission Company have you covered.
We've repaired countless transmissions throughout the Hillside area. Regardless of your vehicle's make and model, our mechanics can get it back on the road in no time.
Contact us today to request a free quote!