09 Jun

What Are Some Signs That Your Transmission Needs to Be Repaired? Insights from a Transmission Repair Company in Oak Park, Illinois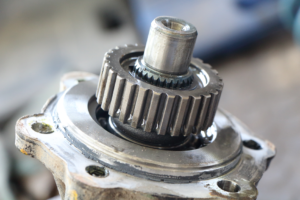 You might not think about it much, but your vehicle's transmission works hard. Most transmissions will require some maintenance after enough milage. Allowing an ailing transmission to continue running can spell disaster for your vehicle and could cost you thousands of dollars.
Are you wondering how to tell whether your transmission needs to be looked at? This transmission repair company in Oak Park, Illinois is going to discuss some of the most common signs below.
There's a Burning Smell Coming from Your Vehicle
One sign that your transmission might need to be repaired is that there's a burning smell coming from your vehicle. While burning smells can come from a number of different sources, a common source is the transmission. In most cases, it originates from burnt and deteriorated transmission fluid.
Over time, transmission fluid breaks down. Eventually, it becomes burnt, charred, and sludgy. At this point, it can no longer provide adequate lubrication, and it becomes a detriment to the transmission.
If you smell a burning aroma from your vehicle, you should check to see whether your transmission fluid is burnt. If it is, you'll need to replace it. Your local transmission repair company in Oak Park, Illinois can help you with the task.
Your Transmission Fluid Possesses a Black Appearance
In its prime state, transmission fluid possesses a reddish-brown appearance. Unfortunately, over time, as it sees more and more use, it becomes burnt and eventually turns black. This usually is accompanied by a change in texture as well. While it starts out syrupy in consistency, it eventually turns sludgy.
This is bad for the transmission. Transmission fluid is supposed to provide lubrication. If it's sludgy, it cannot do that. This will result in undue wear and tear within the transmission itself.
You shouldn't allow this to persist. The second you notice that your transmission fluid is black, have it flushed and replaced by your local transmission repair company in Oak Park, Illinois.
Your Vehicle Delays and Jumps When Accelerating
Another sign that you're dealing with a bad transmission is that your vehicle delays and jumps when accelerating. This generally presents itself as a herky-jerky motion or sudden burst.
Ideally, your vehicle will accelerate smoothly. It will switch gears without indication and will allow you to get up to speed without discomfort. If it's not doing this, it's probably because the gears in your transmission are slipping against one another.
This comes about due to either a lack of lubrication or an impaired transmission component. Have your vehicle inspected by a professional. They'll determine the source of the problem and take all necessary actions to fix it.
There's a Leak Under Your Vehicle
The last sign that you need to look out for is a leak under your vehicle. If transmission fluid is leaking from your vehicle, there's undoubtedly something wrong. Transmission fluid should never leave the transmission.
This is, unfortunately, a sign of structural damage. What this means, of course, is that something will need to be repaired or replaced within your transmission.
Unless you have a ton of experience working with cars, it's very difficult to repair transmission leaks on your own. In these cases, it's best to contact your local transmission repair company in Oak Park, Illinois.
Looking for the Top-Rated Transmission Repair Company in Oak Park, Illinois?
Is your transmission showing signs of damage? If so, the experts at King Transmission Company are the people to call. As the top-rated transmission repair company in Oak Park, Illinois, our certified mechanics can repair any transmission issue your vehicle is facing.
Contact us today to schedule an appointment.