24 Jan

Dealing with Transmission Issues? Here's How to Tell: Insights from a Transmission Repair Shop in Brookfield, Illinois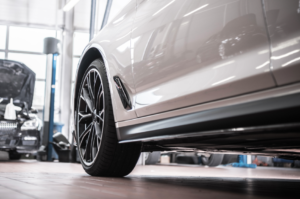 By and large, a vehicle's transmission can last a long time without needing any sort of repair. However, there will eventually come a time when a repair is necessary, and when that time comes, it's important that you act fast.
Are you wondering whether your transmission needs to be repaired? We're going to review some of the most common signs that it's time to visit your local transmission repair shop in Brookfield, Illinois.
Does Your Transmission Fluid Look Burnt?
One sign that you might need transmission repair is that your transmission fluid looks burnt. In other words, your transmission fluid possesses a black and sludgy appearance.
In most cases, transmission fluid can be subjected to between 30,000 and 60,000 miles of use before a replacement needs to be made. Once it passes this range, it does an inadequate job of providing lubrication, resulting in efficiency and wear and tear issues.
As soon as you notice your fluid is burnt, you need to flush and replace it. Your local transmission repair shop in Brookfield, Illinois can get the job done for you.
Does Your Vehicle Burst Forward When Accelerating?
Another sign that there might be something wrong with your transmission is that your vehicle bursts forward when accelerating. This could occur as the gears in your transmission are changing. It's essentially the result of non-lubricated gears slipping.
What might be causing this issue? In most cases, old transmission fluid is the culprit.
The good news is that it's easy to fix. All you'll have to do is flush your existing transmission fluid and replace it with fresh fluid. If you need assistance in doing so, your local Brookfield transmission repair shop can help.
Is Your Transmission Leaking?
A definite sign that your transmission needs repair is that there's transmission fluid leaking from your transmission. This should never happen. Transmission fluid is meant to stay within the transmission until it's deliberately flushed. If it's outside of the transmission otherwise, it's because there's damage somewhere within the transmission.
You might be wondering: what does transmission fluid look like? It has a reddish-brown appearance, unless it's burnt, in which case, it will be brown or black.
It's important to note here that a transmission can't run properly if it isn't filled with transmission fluid. It will incur substantial damage, and it could even cease to operate.
As soon as you notice the leak, you need to get your vehicle to a repair technician. They'll assess the damage and either repair or replace the transmission.
Is There a Burning Smell Coming from Your Vehicle?
One last sign that you need transmission repair is that there's a burning smell coming from your vehicle. This could be coming from another component of your car. However, the vehicle's transmission is a common culprit.
In most cases, this has to do with burnt transmission fluid. It's most likely been used to a point that it's literally burnt up. Again, if transmission fluid is burnt, it can't provide adequate lubrication. If this is not replaced, it will hurt your transmission over time. We recommend taking your vehicle to your local transmission repair shop in Brookfield and having its fluid flushed.
Looking for the Top-Rated Transmission Repair Shop in Brookfield, Illinois?
Is your transmission showing signs of damage? If so, and if you're looking for the top-rated transmission repair shop in Brookfield, Illinois, you've come to the right place — King Transmission is the company to call.
Contact us today at (630) 832-6800 to request a free estimate.