24 Feb

Is It Time to Have Your Transmission Repaired? Insights from a Transmission Repair Shop in West Chicago, Illinois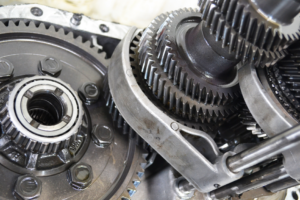 If you want your vehicle to operate at its maximum capacity, its transmission needs to be in tip-top shape. Unfortunately, the transmission can have issues from time to time, and repairs often become necessary.
Are you wondering whether it's time to have your transmission worked on? This transmission repair shop in West Chicago, Illinois is going to point out some of the most common signs below.
Look at Your Transmission Fluid
First and foremost, you should look at your transmission fluid. When it's in good shape, transmission fluid should have a reddish-brown appearance and a syrupy consistency.
Unfortunately, as time passes, transmission fluid becomes burnt. This causes the fluid to become black in appearance and tarry in consistency. Once it reaches this point, it's unable to provide adequate lubrication, and needs to be flushed and replaced.
Therefore, if your fluid possesses a black color, you need to take your vehicle to your local transmission repair shop in West Chicago, Illinois. Their mechanics will be able to flush the fluid and ensure that it's properly replaced.
Check for Leaks
Next, you're going to want to check for leaks. If transmission fluid is leaking out of your vehicle, there's undoubtedly something wrong with your transmission. Transmission fluid should never leave the transmission.
If transmission fluid is leaking from your transmission, it's almost always because there's been some structural damage. You'll want to take your car to a transmission repair shop in West Chicago, Illinois to have it repaired. If it's not repaired in a timely manner, it could become irreparably damaged.
How can you tell whether there's transmission fluid leaking from your vehicle? The simplest way is to just look at your usual parking space. If there is reddish-brown fluid in that space, you can be almost certain that a transmission fluid leak is at the root of the problem.
Use Your Nose
Always be cognizant of burning smells coming from your vehicle. These can be indicative of burnt transmission fluid, not to mention a variety of other problems.
If burnt transmission fluid is, indeed, the issue, your transmission isn't receiving adequate lubrication and is likely suffering both efficiency and wear and tear issues. The only way to get adequate lubrication back is to replace the burnt fluid with fresh fluid.
Need help doing this? If so, your local West Chicago transmission repair company can help. Regardless of the model of your vehicle, their mechanics will be able to find the appropriate fluid and swap out your burnt fluid.
Be Cognizant of Acceleration Bursts
Our last piece of advice is to be aware of acceleration bursts. What is an acceleration burst? Think of it as a sudden jolt while the vehicle is accelerating. At first, the acceleration is going smoothly, but then, it gets jerky, only for it to eventually even out once the next gear is reached.
What does this have to do with a bad transmission? Put simply, a bad transmission is the culprit. The burst happens due to slippage in the gears.
How do you fix the problem? It depends on what exactly is causing the problem. If a lack of lubrication is the issue, you can fix it simply by adding fresh fluid. If mechanical or structural damage is the issue, a repair or replacement will be needed.
Regardless, your West Chicago transmission repair company can help you.
Looking for the Best Transmission Repair Shop in West Chicago, Illinois?
Has your transmission seen better days? Looking for the best transmission repair shop in West Chicago, Illinois? If so, King Transmission is the company to call. Our experts have repaired countless transmissions in the West Chicago area. Regardless of the issue you're dealing with, we can get it fixed quickly and accurately.
Contact us today to schedule an appointment.