07 Mar

5 Signs That You May Need Transmission Replacement in Elmhurst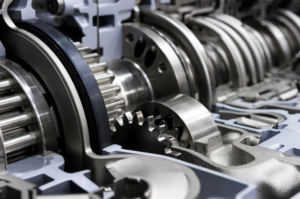 Perhaps no part of a vehicle is more integral to its operation than its transmission. When a car's transmission fails, the car itself fails.
While transmissions will typically hold up for a very long time, they do eventually break down. How do you know when your transmission is about to give out? By looking for signs and indications.
Here are 5 signs that you may need transmission replacement in Elmhurst.
1. Discolored Fluid
A fairly obvious indication that your transmission needs repair or replacement is if its fluid is discolored. Transmission fluid becomes discolored after years and years of use. The more and more it's used, the more and more burnt it becomes.
When this fluid becomes burnt, it takes on a thick and sludgy consistency. At this point, it won't lubricate the transmission in the way that it's supposed to.
While you probably won't have to replace your transmission, you will probably have to replace your transmission fluid.
2. Leaking of Transmission Fluid
Another sign that your transmission may need to be replaced or repaired is if it's leaking transmission fluid.
Fluid leaks are typically not a huge cause for concern. While your transmission could be irreparably damaged, it's more likely that there's just a small hole in the fluid lines, pan gasket, or other transmission implements.
Holes of this type can generally be patched up quickly and affordably. An experienced mechanic will be able to identify and solve the problem in a timely manner.
3. Irregular Noises
Have you heard any loud, irregular noises coming from your vehicle? Perhaps a grating, clunking, or grinding sound is emitting from your car? If so, there is an undoubtedly a problem.
While these noises could be coming from a number of different car components, there's a decent chance that they're coming from your transmission. The longer you allow these noises to continue, the worse the problem will become.
Rectify the problem by seeing a transmission repair mechanic as soon as possible. The mechanic will be able to find the source of the noise and correct the issue.
4. Foul-Smelling Odors
Cars emit a number of different odors. Chemical odors, gas odors, and burning odors are just a few odors you might notice making their way from your vehicle. When an odor is especially foul, there's a decent chance that there's something wrong with your vehicle.
A foul-smelling odor emitting from your vehicle is not necessarily a sign of transmission troubles, but it very well could be. This is doubly true if it you only smell it when your car is running.
Regardless of what the odor is coming from, you want to get it checked out. A transmission repair mechanic will be able to discover the source of the smell and perform any necessary repairs.
5. Delayed Gear Shifts
One last sign that you may require transmission repair is a delay in gear shifts.
When a transmission is not properly lubricated, its gears tend to slip during shifts. This causes them to take additional amounts of time to complete a shift.
In most cases, as long as you see a transmission repair mechanic soon enough, you'll be able to salvage your transmission with a repair. In rare cases, your transmission will have to be replaced.
Do You Need a Transmission Replacement in Elmhurst?
Have you noticed any of the signs reviewed above? Do you require transmission repair or replacement in Elmhurst? If so, King Transmission Company are the people to see.
We've been serving the Elmhurst area since 1954, offering only the best in transmission repair and customer service. It is our goal to keep your vehicle thriving for years to come.
Contact us today to get started!