08 Apr

Drive Shaft Repair in Chicago: When Is It Necessary? Insights from a Chicago Transmission Repair Company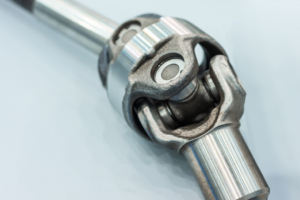 The drive shaft is an integral part of any vehicle, taking power from the engine and passing it along to the wheels. As such, when the drive shaft becomes impaired, the vehicle at large suffers in a big way.
Do you think there might be something wrong with your vehicle's drive shaft? Wondering if a repair is necessary? If so, you're in the right place. Here are some common signs that your vehicle requires drive shaft repair in Chicago.
When You're Having Trouble Turning
Do you feel as though you have to strain yourself just to turn your vehicle? If so, your drive shaft could very well be the culprit.
In normal situations, you should be able to turn your vehicle with just a slight pull on the steering wheel. It should be so simple that you don't even have to think about it. If you're mindful about the mechanics of every turn you make, something is probably wrong with the vehicle.
Note, however, that a damaged drive shaft is not the only thing that can make turning difficult. Other potential causes include a lack of power steering fluid and a broken serpentine belt.
When You're Hearing Thudding Noises
Your vehicle should, for the most part, be fairly quiet during operation. Sure, you might hear general engine noises, but if there's any particular sound that strikes you as odd, it could indicate a problem.
One sound to listen for is a thudding sound. Thudding sounds can come from a variety of sources, one of which is the drive shaft. Should the drive shaft's U-joints suffer deterioration, it could cause the components to bang around and make thudding noises.
This is a problem that should be dealt with swiftly. Failure to fix U-joints in a timely manner can cause substantial damage to the vehicle, resulting in thousands of dollars' worth of repairs.
When You're Hearing Squeaking Noises
Another noise that you should be cognizant of is a squeaking noise. Squeaking noises can be caused by a variety of factors. However, they often come about as a result of deteriorated U-joints in the drive shaft.
Again, this is not a problem that you'll want to let linger. The faster you replace your deteriorated U-joints, the less damage your drive shaft will take on. Allowing the problem to continue on for too long can cause irreparable damage, jeopardizing the functionality of your vehicle altogether.
In this case, you would be wise to have your vehicle inspected by a mechanic sooner rather than later. He or she will be able to identify and repair the problem.
When You're Feeling Extreme Vibration
Vehicle vibration can vary from mild to extreme. In the mildest of cases, it's usually nothing to worry about (the engine or air conditioner could be causing it).
However, if the vibration has grown more extreme than you're accustomed to, there is most likely a mechanical issue at play. In many cases, this mechanical issue ends up lying in the drive shaft.
If the drive shaft is the culprit, you're bound to feel most of the vibration coming up from the driver's seat and front passenger's seat. If you notice this, it's recommended that you take your vehicle to a drive shaft repair specialist as soon as possible.
In Need of Drive Shaft Repair in Chicago?
Are you in need of drive shaft repair in Chicago? If so, the mechanics at King Transmission Company are the people to see.
Our team is well-versed in the maintenance and repair of drive shafts, having serviced thousands of them since our establishment in 1954. Regardless of the type of issue you're having with your drive shaft, we can get it fixed.
Contact us today to schedule an appointment!