24 May

Everything There is to Know About Drive Shaft and Transmission Repair in Bensenville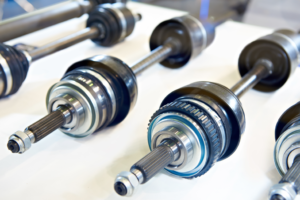 There is no shortage of components in an automobile. In fact, the average car contains around 30,000 different parts. However, some car parts are more important than others. Some of the most important car components exist within the car's drive shaft—a vital component that transmits power from the transmission to the wheels.
While drive shafts are fairly reliable, they can experience problems. When problems occur, it usually requires the attention of a professional mechanic.
Wondering whether you're in need of drive shaft repair in Bensenville, Illinois? Curious as to what drive shaft repair entails? This article has you covered.
What Does a Drive Shaft Do?
In order for a vehicle to operate, its transmission must be able to transfer power to its wheels. The drive shaft is the component that allows it to do this, essentially connecting the transmission and the engine with the wheels of the vehicle.
There are three different types of drive shafts: rear-wheel drive shafts, front-wheel drive shafts, and all-wheel drive shafts. These drive shafts work in tandem with the back wheels, the front wheels, and all four wheels, respectively.
Signs of Drive Shaft Problems
Curious as to whether your drive shaft is experiencing problems? All you have to do is look out for a few key signs. Those signs are as follows:
Turning Difficulties
Do you feel as though you have to yank on your steering wheel with all of your force in order to make a simple turn? If so, you drive shaft could very well be the culprit. Your vehicle's drive shaft is key to its being able to turn. Should the drive shaft experience impairment in some way, turns will instantly become more difficult.
Strange Noises
Another sign of drive shaft impairment is strange noises emitting from your vehicle. These noises are typically thudding noises, in particular, and they're usually indicative of broken U-joints (key sub-components that make up part of the drive shaft).
One thing to note, however, is that all strange noises are reason enough to see a mechanic. If your drive shaft isn't the issue, something else could be.
Excessive Vibration
Vehicles can vibrate for a range of different reasons. However, if you feel vibration coming up from the bottom of your driver's seat, a drive shaft issue could very well be the cause. Again, regardless of why your vehicle might be vibrating, it's recommended that you have it checked out by a Bensenville transmission repair specialist.
What Does Drive Shaft Repair Entail?
It's usually not too difficult for mechanics to detect problems with a drive shaft. An impaired drive shaft has such a seismic impact on a car's performance that it will practically be impossible to ignore. Therefore, once you take your vehicle in to be inspected, your mechanic will likely diagnose the challenge right away.
The repair process typically involves the removal of the drive shaft and the replacement of specific drive shaft sub-components. This process generally takes a few hours.
Generally, depending on the make and model of your vehicle, drive shaft repair services can cost you anything from a few hundred dollars to a few thousand dollars.
In Need of Drive Shaft Repair in Bensenville?
Is your drive shaft demonstrating signs of wear and tear? Are you in need of drive shaft repair in Bensenville, Illinois? If so, King Transmission Company is the company to call.
Sporting a team of experienced and certified mechanics, we've repaired thousands upon thousands of transmissions and drive shafts throughout the years. Regardless of the problem your drive shaft is facing, we can fix it.
Contact us now to schedule an appointment!