08 Jan

The Ins and Outs of Drive Shaft Repair: Advice from a Lombard Transmission Repair Company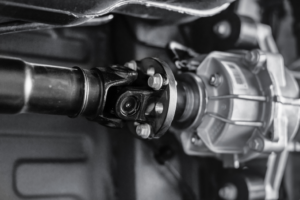 One of the key components to your car's functionality is its drive shaft. The drive shaft supplies torque and power to the parts of your vehicle that cannot be reached directly by its transmission. As such, if your drive shaft suffers impairment, your vehicle can cease to operate as intended.
Looking to learn a little more about repairing your vehicle's drive shaft? Take it from this Lombard drive shaft repair company: these are the ins and outs of drive shaft repair.
What is a Drive Shaft?
When used in an automobile, the drive shaft is responsible for receiving power from the transmission and transferring it to the opposite end of the vehicle. It does this so that it can then be transferred to the axles, powering the vehicle's wheels and allowing the vehicle to move.
The drive shaft consists of a number of different components, including the CV joints, the tube shafts, the slip yokes, and the driveshaft tubing, to name just a few. Should one of these components suffer impairment, a repair will be needed.
Signs of a Bad Drive Shaft
Now that you know what a drive shaft is, you might be wondering whether yours is on the fritz. To make this determination, you should look out for the following signs.
Vibration
One of the biggest signs of drive shaft impairment is vibration. Note, however, that the source of the vibration is key. If it's coming from under the driver's seat, it's likely indicative of a drive shaft problem. If it's coming from somewhere else in the vehicle, there is likely another component in need of attention.
In any case, excessive vibration warrants a trip to a transmission repair shop. Your transmission repair company will be able to identify the source of the vibration, and he or she can take measures to correct it.
Acceleration Shuddering
Does your vehicle shake or shudder when you first put your foot on the gas pedal? If so, your drive shaft is likely the source of the problem. When this symptom presents itself, it's usually due to deteriorated U-joints. Note, however, that there can be other causes as well.
Regardless, if you experience acceleration shuddering, you're advised to take your vehicle to a professional mechanic as soon as you can. He or she can identify the source of the problem and take action to fix it.
Strange Noises
Strange noises can also be indicative of drive shaft impairment. If you're hearing "thuds" and "squeaks" on a consistent basis, they're likely due to your drive shaft's U-joints being deteriorated.
This is not a problem that you'll want to play around with. Driving on deteriorated U-joints can cause irreparable damage to your vehicle. We recommend having the problem inspected and corrected as soon as possible.
Turning Difficulties
One of the most obvious sign of drive shaft impairment is turning difficulties. If you have to yank your steering wheel just to go to the left or the right, your drive shaft probably needs to be repaired.
Note, however, that other problems could cause this symptom to arise as well. For instance, if your vehicle runs out of power steering fluid, you will likely find it very difficult to turn.
Utilize the Services of a Lombard Transmission Repair Company
Is your drive shaft in need of repair? Looking to utilize the services of a Lombard transmission repair company? If so, King Transmission Company has you covered.
In business since 1954, we've repaired transmissions in countless automobiles. Regardless of the make and model of your vehicle, we can assist you.
Contact us now to get the process started!