08 Nov

Four Indications That You Need Drive Shaft Repair: Insights from a Wood Dale Transmission Repair Company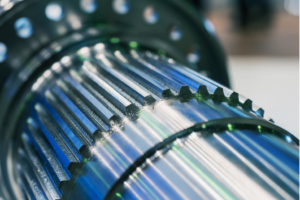 The drive shaft is one of many components that are vital to an automobile's operation. Designed to transfer energy from the gearbox to the axles, an impaired drive shaft can impair the entire vehicle as a whole.
Yes, a damaged drive shaft is often still operable. However, over time, it can face even more damage, which puts tremendous stress on the vehicle. For this reason, when a drive shaft takes on damage, it's highly recommended that you have it repaired as soon as possible.
Are you wondering how to tell if your car's drive shaft needs to be repaired? Then read below. Here are four of the most common indications that you need a drive shaft repair in Wood Dale.
1. Your Vehicle is Vibrating Excessively
One of the most common indications that your drive shaft is damaged is that your vehicle is vibrating excessively. Generally speaking, this level of vibration is caused by a loose or broken U-joint, in particular.
Allowing this problem to persist will put more and more stress on your vehicle. At some point, your drive shaft will fail entirely, and your vehicle could become inoperable (not to mention dangerous to drive).
As such, if you're experiencing excessive vibration when driving your vehicle, it's best that you bring it into a transmission specialist as soon as possible. A licensed mechanic will be able to find the source of the problem and make any necessary repairs.
2. Your Vehicle is Making Thudding Noises
Do you hear loud, thudding noises every time you turn the wheel of your vehicle? If so, there's reason to suspect that your drive shaft is impaired.
This is often a symptom of U-joint deterioration, in particular. When the U-joints become severed, the vehicle is unable to turn smoothly. As a result, thudding noises occur.
This is not a problem that you'll want to let persist. Allowing it to go on for too long can result in serious damage — the type that requires ridiculously expensive repairs. In these situations, it's best that you see a drive shaft repair specialist as soon as possible.
3. Your Vehicle is Difficult to Turn
Maybe your vehicle is much more difficult to turn than it used to be? This, again, is a symptom of drive shaft impairment.
There are a number of problems that can lead to this. Two of the most common include a broken steering rack and a broken serpentine belt. Deteriorated U-joints could cause this to occur as well.
Regardless, if you're having trouble turning your car, you should take your vehicle into an auto mechanic. He or she will be able to identify the source of the problem and take action to correct it.
4. Your Vehicle is Making Squeaking Noises
The last indication that we're going to discuss is squeaking noises. These can be caused by a variety of factors (from new tires, to worn-down brakes, and more), but they're commonly caused by deteriorated or non-lubricated U-joints.
Ideally, you'll be able to eliminate this problem with a simple lubrication. Note, though, that if the problem still persists after that, intensive repairs will likely be needed.
In any case, it's recommended that you bring your vehicle to a Wood Dale transmission repair specialist. He or she will be able to find the true source of the sound and can make any necessary fixes.
Do You Require a Drive Shaft or Transmission Repair Shop in Wood Dale?
Are you dealing with any of these indications mentioned above? Do you need a drive shaft repair or transmission repair company in Wood Dale, Illinois? If so, we here at King Transmission Company are here to help.
Our team has repaired countless drive shafts throughout the Wood Dale area. Whatever problem you are facing, we can accommodate you.
Contact us today to schedule an appointment!