24 Sep

Do You Require Transmission Repair in Elmwood Park, IL? Here are Five Ways to Tell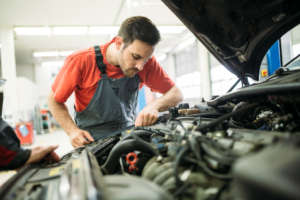 When a vehicle's transmission begins to go bad, the vehicle itself begins to go bad as well. After all, the transmission is one of the driving forces behind any automobile, supplying power from the engine to the wheels. If it ceases to operate as intended, so too will the vehicle.
For this reason, it's important to ensure that your transmission is operating at max capacity at all times. The question is: how can you tell when a transmission is starting to go bad? There are a number of indications that one might require transmission repair in Elmwood Park, IL. We're going to review them below.
1. Your Transmission Fluid is Burnt
One signs that your transmission requires attention is that the fluid contained within it is burnt. Transmission fluid is meant to contain a smooth and syrupy consistency. Unfortunately, after it's been subjected to between 30,000 and 60,000 miles of use, it begins to take on a sludgy consistency instead.
The result of this? It ends up lacking the capabilities necessary to adequately lubricate a transmission. Whereas the smooth and syrupy liquid would have reduced friction between the transmission's gears, the sludgy liquid does very little to deter friction at all.
Fortunately, this is a quick fix. All you need to do is flush your existing transmission fluid and replace it with fresh fluid. An Elmwood Park transmission repair shop can handle this task for you.
2. Your Transmission Fluid is Leaking
The clearest sign that your transmission requires repair is that there's transmission fluid leaking out under your vehicle. Transmission fluid is meant to remain within the transmission for the duration of its use. If it's outside of the transmission, the transmission has likely developed a leak in one of its parts.
Unsure of what transmission fluid looks like? As long as it's relatively fresh, it should have a dark red appearance. If it's burnt and deteriorated, it will be brown or black.
3. Your Transmission is Emitting a Charred Aroma
When transmission fluid burns, it doesn't just possess a burnt appearance. It also emits a burnt smell. Therefore, if you smell a charred aroma coming from your vehicle, it could very well be coming from your transmission, in particular.
Note, however, that burning aromas could come from a variety of other car components as well. If you're unable to find the source of the smell, or if you're unable to correct the problem, an auto repair shop will be able to help you.
4. Your Vehicle Jumps While Switching Gears
Imagine you're driving down the road, driving at 45 miles per hour. All of a sudden, you feel your vehicle "jump".
In all likelihood, this was caused by your transmission. When the transmission fluid within a transmission fails to perform its function as intended, the transmission behaves erratically, sometimes resulting in sudden bursts of acceleration.
If you're dealing with these sudden bursts on a regular basis, it's recommended that you bring your vehicle to a transmission repair shop sooner rather than later.
5. Your Vehicle is Making Unusual Noises
A clear sign that there's something wrong with your vehicle is that it's making unusual noises. While unusual noises aren't necessarily indicative of transmission problems, they are an indication that a problem exists somewhere within the vehicle.
Whether it's a banging noise, a squeaking noise, a screeching noise, or otherwise, it would be wise to have it checked out by an auto repair shop.
In Need of Transmission Repair in Elmwood Park, IL?
Is your transmission displaying signs of wear and tear? In need of transmission repair in Elmwood Park, Illinois? If so, the transmission specialists with King Transmission Company are the people to call.
With over 60 years of existence, we've repaired the transmissions of countless Elmwood Park area vehicles. Regardless of the make and model of your vehicle, our team can help.
Contact us now to schedule an appointment!