21 Mar

How to Know if You're in Need of a Transmission Replacement in Chicago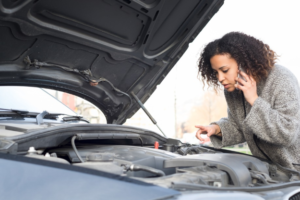 For most people, cars are an absolute necessity. We use our cars to get ourselves to work, to take our kids to school, and to get just about anywhere we're trying to go. If our cars were to lose functionality, we would be confronted with a significant problem. It's for this reason that we need to stay vigilant when it comes to the state of our automobiles.
You need to remain especially vigilant of a car's transmission. If a transmission ceases to operate, the car will cease to operate as well.
Here is how to know if you're in need of a transmission replacement in Chicago.
1. Smoldering Odors
Have you noticed a strong and smoldering odor coming from your car? Does it smell as if something is burnt? If so, there is almost certainly a problem with one or more of its components.
If you notice this smell every time you start driving, there's a very good chance that the problem lies with your transmission. The smell is, more than likely, a result of your transmission fluid being overused.
When transmission fluid is overused, it starts to become charred. This results in a burning aroma that you can't ignore.
2. Hesitation in Shifts
Another sign that you are in need of transmission replacement or repair is if your car hesitates when shifting.
Hesitation when shifting generally occurs because the gears in your transmission are either worn down or improperly lubricated. Instead of shifting instantly, they grind against each other, making for very slow shifts.
This problem can usually be fixed by replacing the transmission fluid. However, in some cases, it could spell the end of your transmission. A total replacement may be necessary.
3. Clunking, Buzzing, or Grinding Sounds
Perhaps you regularly hear buzzing, grinding, or scraping sounds coming from your transmission? If you do, you should know that there's nothing normal about them. They are, almost assuredly, a sign of trouble.
At the very least, grinding sounds indicate a transmission which is low on fluid. At the very most, these sounds indicate a transmission with cracked gears.
In either case, it's wise to take your vehicle to a transmission repair mechanic so that you can get it checked out.
4. Tar-like Transmission Fluid
As was noted above, while transmission fluid will last over a long period of time, it will eventually start to break down. This fluid breaks down as a result of being used over and over again.
When the fluid is passed through the transmission, it comes into contact with extremely high heat. Over time, this heat starts to take its toll on the fluid, burning it and giving it a tar-like consistency.
If you have not replaced your transmission fluid for quite a while, it's time to get it changed.
5. Fluid Leaks
One last sign that your transmission may require replacement or repair is fluid leakage.
Fluid leakage occurs because a component within the transmission (fluid lines, gaskets, etc.) has a hole in it. These holes are caused by either physical trauma or general overuse.
If your fluid is leaking, it's wise to bring your car into a repair technician. He or she will be able to find the problem and rectify the situation.
Top-Tier Transmission Replacement in Chicago
Is your vehicle suffering any of the above ill effects? Looking to reap the benefits of transmission repair or replacement in Chicago? If your answer is yes, King Transmission Company has got you covered.
Our team of mechanics has got years of experience on its side, and is well-versed in the transmission replacement process. We'll have your car up and running in no time.
Contact us today to schedule an appointment!