24 Apr

Is There Something Wrong with My Transmission? Four Signs to Look Out for From a Lombard Transmission Repair Company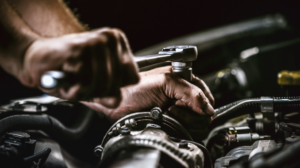 When there's an issue with your vehicle, you might not know exactly what the problem is — but you know that something feels off. Sometimes it's making strange noises, and sometimes it's not running as smoothly as it once did.
If you've found yourself in this situation, you might be wondering: is there something wrong with my transmission? There could very well be. To help you make this determination, we're going to review the 4 signs that you need transmission repair in Elmhurst, Illinois.
1. Black Transmission Fluid
In order for a transmission to run efficiently, it must be filled with clean transmission fluid. Unfortunately, over time, transmission fluid becomes burnt, failing to provide the lubrication that it's designed to provide.
This results in two things: 1. Increased transmission wear and tear, and 2. Reduced transmission efficiency.
As such, if your transmission fluid has a burnt appearance (black and tarry as opposed to red and syrupy), you should swap it out for fresh fluid as soon as possible. This will require a full transmission flush, which is best carried out by a professional Lombard transmission repair specialist.
2. Burnt Aromas
When transmission fluid becomes burnt, it not only takes on a burnt appearance, but it emits a burnt smell as well. As a result, if your vehicle is giving off a burnt aroma, your car's transmission fluid could very well be the culprit.
One thing to note here is that burnt smells can come from a number of other sources as well. These can vary from the exhaust, to the tires, and otherwise.
In any case, if your vehicle smells like it's burning, it's recommended that you have it checked out by a professional auto mechanic. He or she will be able to locate the source of the problem and take action to correct it.
3. Gear Slippage
One of the responsibilities of transmission fluid is to lubricate the transmission. Unfortunately, once it's deteriorated, it struggles to do its job.
Now, deteriorated fluid won't prevent a transmission from operating entirely. However, it will cause it to operate less smoothly, resulting in gear slippage that can cause the vehicle to either jump or delay.
If you're experiencing jumps or delays when your vehicle accelerates or decelerates, there's a very good chance that your transmission fluid has run its course. It's no longer lubricating your car's transmission as needed, creating substantial friction between moving parts.
Fortunately, this is an easy fix (as long as you get to it in a timely manner). All you have to do is replace the deteriorated fluid with fresh fluid. A transmission specialist can complete the task for you.
4. Fluid Leaks
The most obvious sign that there's something wrong with your transmission is that there's transmission fluid leaking onto the ground. Transmission fluid should, under no circumstances, be leaking from the transmission. If it is, it's a sign that the transmission has incurred structural damage of some kind.
Wondering what transmission fluid looks like? It has a reddish-brown appearance. Therefore, if you see a red-brown, syrupy liquid under your vehicle, your transmission is likely in need of structural or mechanical repair. Failure to have this problem repaired in a timely manner can have serious negative repercussions for your vehicle.
Looking for Transmission Repair in Lombard?
Is your car's transmission displaying signs of wear and tear? In need of transmission repair in Lombard? If so, King Transmission is the company to call.
We've repaired a number of transmissions throughout Elmhurst, helping to keep drivers safely on the road. Regardless of the problem your transmission is experiencing, we can fix it.
Contact us today to get started!