08 Feb

How Often Should You Change Transmission Fluid? A Carol Stream Transmission Repair Company Weighs In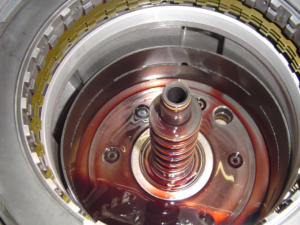 Transmission fluid is designed to thrive through years and years of use. That said, it does have an expiration date. It won't last forever, and it will eventually need to be replaced.
Wondering how often you should change your transmission fluid? Then read on. This Carol Stream transmission repair company has you covered.
How Often Should Transmission Fluid Be Changed?
Conventional wisdom says that you should change your transmission fluid every 30,000 to 60,000 miles of driving. However, as vehicles have improved in terms of efficiency, this rule has become less and less relevant.
Today, some vehicles can travel over 100,000 miles without requiring a transmission fluid change. As such, the best way to determine whether transmission fluid needs to be changed is to look out for some specific signs.
Signs of Bad Transmission Fluid
As was noted above, there are a few signs that you'll want to be mindful of. If your transmission fluid is demonstrating any of the following signs, it's likely in need of a replacement.
It's Discolored
One of the most obvious signs that your transmission fluid needs to be changed is that it's discolored. In its prime state, transmission fluid possesses a brownish-red color. However, it can become burnt over time, slowly taking on a black appearance instead.
Therefore, if your transmission fluid is a darker color, it should be replaced as soon as possible. Failure to replace your transmission fluid in a timely manner will put undue stress on your transmission, reducing both its efficiency and its lifespan.
It's Burnt
Another sign that your transmission fluid is past its expiration date is that it's burnt. Transmission fluid can become burnt over years and years of use. Not only can it turn black, but it can take on a sludgy consistency as well.
In addition, burnt transmission fluid also emits a burning aroma. As such, if you smell a charred odor coming from your vehicle, it could very well be coming from your transmission, in particular. It's important to note, however, that this isn't always the case. The smell could be coming from a variety of other components as well.
Your Gears are Slipping
Do you sometimes feel a jolt when you push the accelerator on your vehicle? If so, it's probably due to gear slippage. Gear slippage is a common symptom of transmission troubles, as it indicates a disharmony between various gears in the gear set.
While gear slippage can usually be fixed with a transmission fluid change, in some cases, more intensive repairs are needed. In rare cases, it can require a replacement of the entire transmission itself.
Your Transmission is Hesitant
Does your vehicle seem to take a second to get going after you've put your foot down on the gas pedal? If so, your transmission is likely to blame.
Like gear slippage, transmission hesitancy usually comes about due to a lack of lubrication. Note, however, that there could also be a structural problem with your transmission. As such, in order to fix the problem, it's recommended that you have your vehicle checked by a professional transmission repair specialist. He or she will be able to assess the problem and determine what type of repairs are necessary.
Utilize the Services of a Carol Stream Transmission Repair Company
Is your transmission fluid due for a change? Looking to utilize the services of a Carol Stream transmission repair company? If so, King Transmission Company is here to help.
We've flushed the transmission fluid in countless vehicles throughout the Carol Stream area. Regardless of the make, model, and year of your vehicle, we can assist you.
Contact us today to schedule an appointment!