25 Jun

How to Know if You Require Transmission Maintenance in Villa Park, Illinois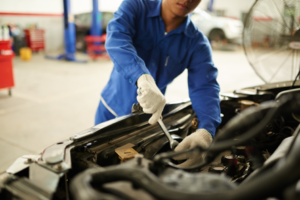 While auto transmissions are fairly resilient, they aren't impervious to the damages and impairments. In fact, it's very likely that, at some point, your car's transmission will need a professional repair.
When this happens, you want to be able to correct the problem as quickly as possible. How do you do so? By keeping a lookout for specific signs. Here is how to know if you require transmission maintenance in Villa Park, Illinois.
Transmission Fluid is Charred
In order for a transmission to run properly, it requires a steady stream of pure transmission fluid. While transmission fluid is designed to last through years and years of consistent use, it will, at some point (typically after 30,000 to 60,000 miles) become charred and burnt.
Charred and burnt transmission fluid is black, sludgy, and thick. Though it still moves through your transmission, it does not lubricate it in the way that it's designed to lubricate it.
If you notice that your transmission fluid has taken on this appearance, it's time for a replacement. A transmission specialist will be able to flush and replenish your fluid successfully.
Burning Smells
Along with presenting a burnt appearance, overused transmission fluid will also emit a charred smell. If you notice an overwhelming burning smell coming from your car every time you fire it up, you could very well be dealing with expired transmission fluid.
Again, the problem can be easily remedied by a transmission repair mechanic. He or she will be able to flush the fluid, and fill the transmission with a fresh supply.
Fluid Leakage
Another sign that your transmission requires repair is if it is leaking transmission fluid. Transmission fluid leaks typically signify that some sort of physical trauma has occurred with your transmission. Oftentimes, stones and other debris can punch holes in the transmission body.
Sometimes this is just a minor problem. Other times, it can be a huge cause for concern. In any case, if you notice transmission fluid under your car, you're going to want to have it checked out by a repair specialist.
Shifting Delays
Whether you're using an automatic or a manual transmission, when your car changes gears, those gear changes should happen without hesitation. If there are delays every time your automobile goes to change gears, there is more than likely something wrong with your transmission.
Either your transmission fluid is no longer doing its job, or your transmission itself is impaired in some way. Regardless, you should take your vehicle into a mechanic.
Grinding Noises
The fact of the matter is that automobiles make a number of different noises. Whereas some of these noises are squeaky and screechy, others of these noises are clunking and grinding.
While there could be other problems that you have to deal with, these clunking and grinding noises are often indicative of a problem with your transmission. In any case, if your car is making clunking and grinding noises, you need to have it inspected by a professional. He or she will be able to get to the root of the problem and make any necessary repairs.
Looking for Professional Transmission Maintenance in Villa Park?
Is your vehicle experiencing any of the signs reviewed above? Looking for professional transmission maintenance or transmission repair in Villa Park? If so, we here at King Transmission Company are the people to see.
Our team of seasoned transmission repair and maintenance mechanics is well-versed in all things transmissions. Whether you require a fluid flush, a repair, or a full replacement, we can, and will accommodate you.
Contact us today to get started!