24 Aug

Transmission Issues to Look Out For: Insights from a Carol Stream Transmission Repair Company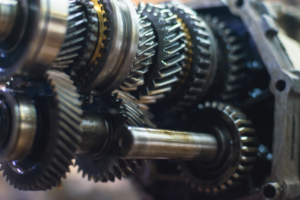 The transmission is the driving force of any vehicle, making sure that the vehicle is running in a smooth and consistent manner. As such, when a vehicle's transmission starts to wear down, the vehicle as a whole finds itself in a compromised position.
This is why it's important that you keep an eye on your vehicle's transmission, ensuring that it's operating as intended. Are you wondering what kinds of problems you should look out for? If so, then you've come to the right place. This Carol Stream transmission repair company has you covered.
1. Gear Slipping
One prominent problem that you'll often notice in vehicles with bad transmissions is the problem of gear slipping. This problem takes place when the transmission fails to switch into gear at the right moments.
Gear slipping can be caused by a variety of factors. In some cases, old transmission fluid is the culprit. In other cases, mechanical deterioration is to blame. Regardless, if your vehicle experiences gear slipping, it's highly recommended that you have it checked out by a professional mechanic. You should give your local Carol Stream transmission repair company a call so that they can fix the problem before it grows worse.
2. Leaking Fluid
Though it doesn't occur frequently, transmission fluid can sometimes leak out of a transmission. Should this occur to your vehicle, you'll likely notice a dark red fluid on the ground below.
Generally speaking, when a transmission leaks, it's because it's experienced some form of physical trauma. Regardless of the cause, we suggest having your transmission checked by a repair specialist. He or she will be able to identify the source of the leak and take action to repair it.
3. Charred Transmission Fluid
One of the most common transmission problems is the problem of charred transmission fluid. This fluid can become charred over time as it's subject to more and more wear and tear. The more charred it becomes, the more it will struggle to provide adequate lubrication.
For this reason, you'll want to change your transmission fluid on a regular basis. Generally speaking, it's wise to change transmission fluid after every 30,000 to 60,000 miles of driving. However, if the fluid looks black and tarry, it's probably time for a replacement.
4. Strange Noises
Does your vehicle ever make any scraping, clunking, or screeching noises when accelerating? If so, there's a possibility that they're coming from your transmission. Yes, other components can make these sounds as well, but the transmission is the most likely culprit.
Why do transmissions make these types of strange noises? Generally speaking, it has to do with mechanical impairment. In all likelihood, parts of the transmission have become damaged. Until these parts are fixed (or replaced), further damage will occur (and the sounds will persist, of course).
5. Low Fluid
Unlike gasoline, transmission fluid does not disappear over time (well, it's not supposed to). Quite the contrary, in fact — transmission fluid is designed to remain in the transmission for tens of thousands of miles of use. Even after it's burnt and sludgy, it should still remain in its entirety.
As such, if your transmission fluid levels have gone down, there's plenty of reason to believe that there's a problem with your transmission. We recommend bringing it to your local transmission repair shop so that a mechanic can identify and address the problem.
In Need of a Carol Stream Transmission Repair Company?
Is your transmission acting strange? Are you in need of a Carol Stream transmission repair company? If so, King Transmission Company is here to help.
We've been serving the Carol Stream area since the 1950s, fixing thousands of transmissions along the way. Whatever problem your vehicle's transmission is suffering from, our licensed mechanics can correct it.
Contact us today to request a free estimate!