08 Dec

What to Look for When Choosing a Transmission Repair Service in La Grange, Illinois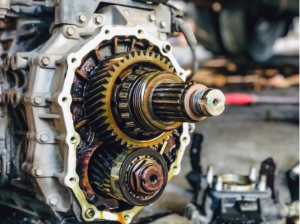 When a transmission develops a problem, it's important to have it repaired as soon as possible. Allowing an impaired transmission to keep running is going to put enormous amounts of stress on it, causing it to fail long before its time.
Note, however, that you don't necessarily have to take your vehicle to the first transmission repair service you come across. It's important that you do your research first.
Need a little help? If so, then you've come to the right place. Here's what to look for when choosing a transmission repair service in La Grange, Illinois:
Plenty of Experience
A vehicle's transmission is one of its most important components. You don't want to leave it in the hands of an inexperienced repair technician. As such, one of the first things you should look for when searching for a transmission repair specialist is experience.
At a minimum, your transmission repair service should have five years of experience under its belt. Ideally, the company you choose will have ten or more years of experience under its belt. Our transmission repair shop has been open since 1954 and is nearing 70 years of experience.
Certified Mechanics
Not only should your transmission repair service have a great deal of experience under its belt, but it should also employ certified mechanics. Certified mechanics have demonstrated the skills and knowledge needed to carry out all types of transmission repair tasks, and they can almost always be regarded as a safe bet.
Here in Illinois, mechanics don't need to have licenses. However, there are quite a few licenses out there for mechanics to obtain, so it's best to make sure your mechanic has them before agreeing to any work.
Insurance
One of the most important things to check for is insurance. Insurance guarantees that you won't be held liable for any damages that the repair service may cause. It can save you substantial amounts of money in the event of an incident.
There are quite a few insurances that auto repair shops should have. These vary from general liability insurance, to garage keeper's insurance, and more. If you wish, you can ask to see proof of these before signing any contracts.
Compatibility
Not all transmission repair services can repair all types of vehicles. Whereas some shops are generalists who can work on vehicles of all kinds, some stick to specific brands like Porsche, Audi, or Hyundai.
Before bringing your vehicle into the shop, it's best to call and make sure that it can, indeed, be worked on.
Warranties
Even the best transmission repair shops can make mistakes. The key is in knowing that you won't have to pay for those mistakes. For this reason, before taking your vehicle into a shop, it's important to make sure that the shop offers warranties.
You'll want to make sure that your vehicle will be fixed for free in the event of a mess-up. Any shop that doesn't offer labor warranties likely won't help you in such an event.
Reasonable Costs
Not all transmission repair shops charge the same rates. As such, before choosing one, it's wise to call around and get estimates from several different shops. You can then compare these estimates against one another and choose one that fits within your budget.
Be wary of lowball estimates, as they could indicate a lack of quality.
Need a Reputable Transmission Repair Service in La Grange?
Is your transmission in need of repair? Looking for a reputable transmission repair service in La Grange, Illinois? If so, we here at King Transmission Company are the people to see.
In business since 1954, we've been repairing transmissions for almost 70 years. Regardless of the make and model of your vehicle, we can fix it.
Contact us today to get started!