24 Feb

Top 6 Transmission Problems that Need Repair in Lombard, Illinois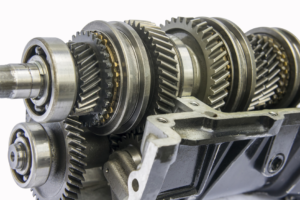 Transmissions can be broadly classified into two main types: Manual Transmission and Automatic Transmission. Manual transmission allows the driver to select any gear manually with a "stick shift" and a manually operated clutch. On the other hand, an automatic transmission uses a planetary gearset, torque converter, and bands to shift through the car's gears automatically.
Unfortunately, as they get older, transmissions are vulnerable to breakdowns. This is why you shouldn't ignore any signs of trouble when they first emerge. It is best to diagnose and address any potential issues that come up early on in order to save you from expensive repairs and inconvenience in the future.
Below, we will discuss six common transmission troubles that you should be aware of. If you live in the Lombard, Illinois area and notice any of the following signs, we recommend having the vehicle diagnosed immediately:
1. Unusual Noises
If you hear a strange grinding, whining, or brushing noise when you change gears, it is certainly a sign of trouble. These noises can be caused by damaged, worn down needle bearings, or even a problem in the torque converter. In the beginning, these noises might be very minor and easily ignored; however, they are important to discuss with your mechanic at soon as possible.
2. Low Transmission Fluid
Low fluid level is generally the most common transmission problem. This often occurs if the transmission or driveshaft is defective. Sometimes, a problem such as cross-contamination can occur in which the coolant mixes with the transmission fluid. This problem can usually be fixed by replacing the transmission gasket seals.
A sure sign that your transmission fluid is leaking is if you notice a reddish or brown-colored puddle in your driveway. In cases like this, you should have your car looked at by a Lombard transmission company.
3. Shaking or Grinding
This can present itself differently in a manual and automatic transmission. During a manual change of gear, if you hear a grinding noise, it could most likely mean that the clutch of the vehicle is worn or damaged and needs to be replaced. However, it could also be a defect in the transmission synchronizer. In the case of automatic transmission, if you can feel a rough shake as you shift in gears during speed changes, you should get a check-up performed by a transmission shop.
4. Slipping Gear
A slipping gear is generally experienced in an automatic transmission driven vehicle. If you find that the vehicle is suddenly changing gear for no apparent reason, or there is an abrupt change in speed, it is most likely a problem with the transmission.
5. Torque Converter or Solenoid Problems
The Torque converter is responsible for converting the power generated by the engine and transferring it to the transmission. If left undiagnosed, this could lead to serious transmission damage. The same is true for the solenoid. The flow of fluid throughout the transmission is controlled by the solenoid, which should be examined regularly during maintenance to avoid fluid shortage to the transmission.
6. Lack of Response
In a manual transmission car, when you change the gear but are not able to register the required change in power and speed when accelerating, the problem surely lies within the transmission of the vehicle. The diagnosis could vary from low transmission fluid levels, to a more serious problem that needs to be examined.
Do you require Transmission Repair in Lombard, Illinois?
Is your vehicle showing any of the above symptoms? Do you need to have your vehicle's transmission serviced in Lombard, Illinois? If so, our professional auto mechanics here at King Transmission are the people to see.
Our team is well-versed, knowledgeable, and experienced in repairing all types of transmission problems. We can have your vehicle running smoothly in no time.
Contact us now to schedule an appointment!