08 Mar

Is Your Transmission Failing? A Melrose Park Transmission Repair Shop Provides Insights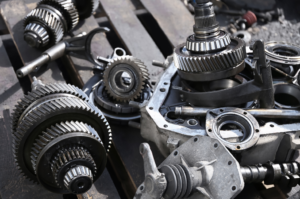 Your vehicle's transmission is integral to its operation. Responsible for transferring engine power to the wheels, it's an absolute necessity. As such, in the event that your transmission experiences problems, you'll want to have them corrected as soon as possible.
Wondering how to tell if your transmission is failing? Then read on. We're going to discuss the specifics below.
Signs of a Failing Transmission
There are many signs of a failing transmission. The most prominent of these signs include the following.
Burnt Fluid
Over time, as transmission fluid sees more and more use, it takes on a black color and a sludgy consistency. Why does this happen? Because, after repeated use, it becomes burnt.
Unfortunately, once transmission fluid has become burnt, it can no longer lubricate the transmission in the way that it's designed to. As such, in order to get the transmission back to optimal operation, its transmission fluid will need to be replaced.
Failure to replace transmission fluid in a timely manner will not only result in reduced transmission efficiency, but in a reduced transmission lifespan as well. We suggest that you look for signs of burning at around 60,000 miles of use.
Charred Odors
Does your vehicle smell like it's burning? If so, the problem could be with the transmission, and, in particular, the fluid that exists within the transmission. Just as transmission fluid can take on a burnt appearance, it can also emit a burnt smell.
Fortunately, this is a quick and affordable fix. All you need to do is swap out the old fluid in exchange for new fluid. Don't wait too long, however. As we mentioned above, failure to swap fluid in a timely manner can affect both the efficiency and lifespan of the transmission.
Shifting Delays
Another sign that your transmission might be on the fritz is that your vehicle experiences delays when shifting from gear to gear. This can occur for one of two reasons: 1. The transmission isn't properly lubricated, and 2. The transmission is structurally impaired in some way.
Regardless of what the problem might be, it's best to have it checked out by an auto mechanic. A transmission repair specialist can get to the bottom of the problem, then take the necessary actions to correct it.
Fluid Leaks
Transmission fluid is never, under any circumstances, meant to leak out of a transmission. Therefore, if there's fluid leaking out of your transmission, your transmission is most certainly in need of a repair.
The question you might have is: what does transmission fluid look like? When in its prime state, it has a brownish-red color, different from any other fluid in your vehicle. As such, you shouldn't have much trouble spotting it on your garage floor or driveway. If you do spot it, it's recommended that you get your vehicle over to a transmission specialist straight away.
Jolts During Acceleration
One last sign to look out for is jolts during acceleration. These jolts will come across as little bursts of energy, and they can happen when you least expect them.
The cause? It's either an improperly lubricated transmission or a structurally impaired transmission, both of which can be assessed and repaired by a transmission specialist.
Do You Need a Transmission Repair Service in Melrose Park?
Is your transmission displaying signs of a problem? If so, and if you're looking for transmission repair in Melrose Park, Illinois, we here at King Transmission Company are the people to see.
We're no strangers to transmission repair, having repaired countless transmissions throughout the Melrose Park area. Regardless of the problem your transmission is experiencing, we can solve it.
Contact us now to schedule an appointment!