08 Nov

How Does a Vehicle Transmission Work? Get the Answer from an Oak Park Transmission Repair Company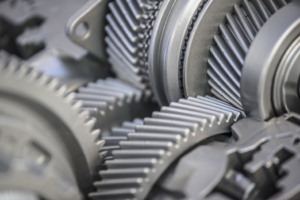 You've likely heard of a car's transmission. However, most people do not have any idea how the transmission works.
While this isn't necessarily a problem, a little transmission knowledge doesn't hurt either.  Interested in learning how a vehicle transmission operates? Read below to get the answer from an Oak Park transmission repair company.
What Does a Transmission Do?
A vehicle's transmission is integral to its operation. Should your transmission ever stop operating, your vehicle will cease to operate as well.
Why is this the case? Because your transmission is responsible for accepting power from the engine and supplying it to the wheels. If it's not working, it can't accept power, and therefore can't supply it either.
Transmissions operate with the use of gears. These gears switch as speeds increase and decrease, helping their corresponding vehicles to accelerate and decelerate as smoothly as possible.
There are two different types of transmissions: automatic and manual. While automatic transmissions are by far the most common, manual transmissions still have their place.
Transmission Sub-components
Transmissions are complex components, consisting of a variety of different sub-components. To help you better understand a transmission's operation, we're going to get into the specifics of each transmission sub-component. They are as follows.
Planetary Gearset
The most important sub-component of the transmission is the planetary gearset. The planetary gearset consists of a series of gears positioned around a central gear. Together, these gears shift in order to accommodate needed gear ratios.
For example, whereas one gear ratio will accommodate speeds of 50 miles per hour, another gear ratio might accommodate speeds of 25 miles per hour. Used solely in automatic transmissions, planetary gear sets allow vehicles to be operated without the need for manual shifting.
Torque Converter
While manual transmissions make use of a clutch in order to transfer power from the engine to the axles, automatic transmissions make use of torque converters in order to transfer power from the engine to the axles.
Torque converters consist of three parts: the turbine, the stator, and the impeller. Should any of these parts suffer damage, the torque converter will need to be replaced or repaired by a mechanic.
Hydraulic System
In order for a transmission to operate as intended, it's important that it stays lubricated. This is done with the use of transmission fluid, and it is facilitated by a component known as the hydraulic system.
Hydraulic systems consist of a series of tubes and pumps, all of which work together to ensure that the transmission is constantly being cooled and lubricated. Most modern hydraulic systems contain computers as well, allowing for greater consistency and efficiency.
Gaskets
Transmissions contain a wide variety of gaskets, all of which serve the purpose of keeping transmission fluid inside the transmission. The central gasket, or the pan gasket, is one of the main gaskets that separates the transmission and the transmission oil pan.
However, depending on the model of transmission, it could contain any number of seals or gaskets.
Computer
The vast majority of modern transmissions also contain computers. These computers are the brains of their respective transmissions, communicating information about vehicle speed, engine power, brake positioning, and more.
Computers are vital to the operation of the gears, informing them of which ratios are appropriate for given situations.
Utilize the Services of an Oak Park Transmission Repair Company
Is your transmission in need of a repair? Looking to utilize the services of a reputable Oak Park transmission repair company? If so, King Transmission Company has you covered.
In business since 1954, we have serviced and repaired transmissions in countless vehicles. Regardless of the problem your transmission is facing, our team of seasoned mechanics can identify and correct it.
Contact us now for a free quote!