08 Jul

The Consequences of Failing to Repair a Damaged Transmission: A Stone Park Transmission Repair Company Provides Insights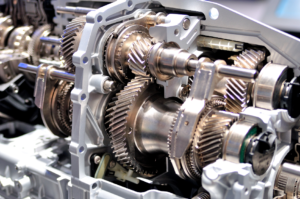 A vehicle's transmission is absolutely vital to its overall performance. Should the vehicle's transmission go bad, the vehicle will fail to function as it should.
The question you might have, however, is what exactly does this entail? What are the consequences of failing to repair a damaged transmission? Take it from a Stone Park transmission repair company: here's what you'll have to deal with.
What are the Consequences of Not Repairing a Transmission?
Failing to repair a damaged transmission can lead to a few different situations. Typically speaking, the longer you take to fix your transmission, the worse the situation will end up being. Some common occurrences include the following.
Loss of Acceleration
Oftentimes, when a transmission is low on transmission fluid, it will begin to accelerate slower than it once did. As such, while you used to be able to get from 0 to 60 in 7 seconds, it might now take 9 or 10 seconds to get from 0 to 60.
Fortunately, this problem can generally be corrected by adding fresh fluid. You'll want to act quickly, however. Waiting too long can result in more catastrophic problems — ones that require more intensive (and expensive!) repairs.
Gear Troubles
When a transmission takes on mechanical problems, it will often result in gear complications. For instance, your vehicle might jolt forward at random times, causing a dangerous and dysfunctional situation.
If you notice this with your vehicle, it's recommended that you have it looked at by a transmission repair specialist as soon as possible. If addressed in a timely manner, there's a good chance that the transmission can be repaired.
Stalled Car
One of the worst-case scenarios is that your vehicle stalls while you're driving it. This generally occurs due to consistent wear and tear. Constant friction prevents the gears from staying in place, resulting in a complete loss of function.
Unfortunately, when this occurs, it often spells the end of the transmission's life. That said, there are situations where a repair could be beneficial. In either case, it's best to bring your vehicle into a transmission repair shop. Their mechanics will be able to assess the damage and take the right steps to repair it.
Signs of a Bad Transmission
In order to prevent certain transmission issues from causing serious damage to your vehicle, it's important that you repair transmission problems early. How can you tell whether problems exist? By looking out for the following signs.
Awkward Gear Shifting
Does your vehicle jump forward when shifting gears? If so, there's a good chance that your transmission is the culprit. This particular problem can indicate two things: structural damage and/or deteriorated transmission fluid.
Burnt Transmission Fluid
One of the more obvious signs that your transmission needs to be cared for is that its transmission fluid is black and sludgy. Black and sludgy fluid is burnt fluid. Burnt fluid does not lubricate the transmission properly, and, in some cases, can actually be detrimental to its performance. It's best to take your vehicle into a transmission repair shop and get that fluid replaced as soon as possible.
Fluid Leaks
Do you see a dark red fluid leaking underneath your vehicle? If so, you're probably looking at transmission fluid. Under no circumstances should this fluid be leaking from your transmission. If it is, a repair is undoubtedly in order.
Looking for a Stone Park Transmission Repair Company?
Is your transmission acting up? Looking for a Stone Park transmission repair company? If so, we here at King Transmission Company are the people to see.
Sporting a team of seasoned transmission professionals, we've repaired countless transmissions throughout the Stone Park area. Regardless of your vehicle's make and model, we can help you.
Contact us today to schedule an appointment!