07 May

6 Common Transmission Problems in Lombard, Illinois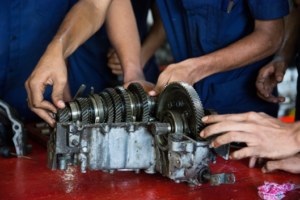 The transmission is the heart and soul of any automobile, ensuring that all of its moving parts are running smoothly. When your vehicle's transmission starts to experience problems, your car is put in a very vulnerable position.
For this reason, it's necessary to keep an eye out for problems with your transmission. There are a variety of problems—both big and small—which commonly occur.
Here are 6 common transmission problems in Lombard, Illinois.
1. Gear Slipping
One problem transmissions can run into is gear slipping. This occurs when the transmission refuses to change into the appropriate gear at the appropriate time.
A number of different things can cause gear slipping, from bad transmission fluid, to general deterioration. If you've run into this problem, it's suggested that you have your transmission inspected by an experienced mechanic.
2. Fluid Leaks
While they're not a frequent occurrence, transmission fluid leaks do happen. You can normally tell if you've got such leaks by looking for dark red stains below your vehicle.
If your transmission fluid is leaking, it's likely because your transmission has suffered some type of physical trauma. There is a distinct possibility that there is a hole somewhere in the exterior of your transmission. Fortunately, this hole can typically be patched up by a mechanic.
3. Burnt Fluid
Perhaps the most common transmission problem you'll run into is burnt fluid. While this fluid is meant to thrive for very long periods of time, it will eventually become burnt. This happens because it's in constant contact with very high levels of heat.
In most cases, you'll want to have your transmission fluid changed every 30,000 to 60,000 miles. This will ensure that your transmission is running smoothly.
4. Unresponsive Gears
When a transmission is working properly, the gears in your car are supposed to shift seamlessly with little hesitation. When your gears are not immediately responsive to manual or automatic changes, there is almost certainly something amiss with your transmission.
In most cases, when this happens, the fluid in your transmission is no longer doing its job. In rarer cases, your transmission itself is suffering a problem. In either case, it's recommended that you visit a mechanic.
5. Noisy Transmission
Have you noticed your vehicle making any loud clunking, scraping, or screeching noises? If so, and if these noises are occurring even when you're not applying your brakes, there's a good chance that your transmission is the problem.
When the inner mechanisms of the transmission start to deteriorate, the transmission loses its ability to operate smoothly. This often results in a great deal of friction occurring within the transmission.
6. Low Fluid
Transmission fluid is not like gasoline. It does not burn away and turn into gaseous fumes. Instead, transmission fluid stays in your vehicle years after it has been added.
However, it is possible for your transmission fluid to be low. This usually occurs when your transmission springs a leak of some type. If your transmission is not running as it normally does, low transmission fluid is something which you should check out.
Fighting Transmission Problems in Lombard?
Is your vehicle on the fritz? Are you fighting transmission problems in Lombard, Illinois? If so, you would be best served by having your transmission looked at by a professional mechanic.
King Transmission has been serving the Lombard area since 1954 and has offered nothing short of impeccable service every step of the way. Whatever the problem is with your transmission, we'll be able to identify and correct it.
Contact us today to discuss your problem!