24 Aug

How Will a Transmission Fluid Change Benefit You? Insights from an Elmhurst Transmission Repair Company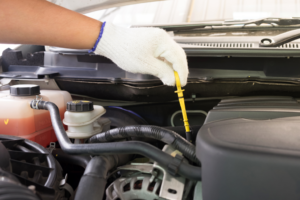 Transmission fluid is designed to last for tens of thousands of miles. However, it always deteriorates at some point, and when it does, it needs to be replaced with fresh fluid.
Wondering why a change of transmission fluid in Elmhurst is necessary? Curious as to the benefits? Then read below. This blog post contains everything you will need to know.
Improve Vehicle Performance
A vehicle's transmission is vital to its performance. If a transmission is not operating at its full capacity, then the vehicle will fail to operate at its full capacity as well. For this reason, if you want to get the most out of your vehicle, it's important that you do everything possible to maintain its transmission over time.
While there's a lot involved in transmission maintenance, the most important component is the changing of transmission fluid.  By changing a transmission's fluid in a consistent and timely manner, you maintain proper lubrication, allowing it to run as smoothly and as efficiently as possible.
Conversely, a failure to change transmission fluid in a timely manner will result in an inefficient and rough-running transmission. This type of transmission is at risk of a breakdown and will likely deteriorate before its time.
Prevent Lockup
Over time, as transmission fluid sees more and more use, it starts to deteriorate. What was once a smooth, red liquid transforms into a black, tarry sludge. Unfortunately, due to its sludgy consistency, it has a progressively more difficult time of providing lubrication to the different parts of the transmission. This is why transmission fluid needs to be changed in the first place.
Now, if deteriorated fluid is allowed to remain for a long enough period of time, it could cause the transmission to "lock up". In terms of transmissions, "lockup" describes a complete loss of functionality.
Should your transmission experience lockup, it may be impossible to repair. At that point, your only option would be to replace it entirely. The cheaper solution? Change your transmission fluid on schedule, every 30,000 to 60,000 miles of use.
Increase the Lifespan of Your Transmission
Like all car components, transmissions take on wear and tear over time. Generally, the more wear and tear a transmission takes on, the earlier it will meet its demise.
Fortunately, there are ways to reduce the wear and tear on your transmission, the most beneficial of which is to replace your transmission fluid. By swapping out your fluid on a regular basis, you keep your transmission running smoothly, reducing wear and tear and allowing it to thrive for as long as technologically possible.
Save Money
Repair and replacement costs associated with transmissions range from $300 to $3,500. This is probably not an expense that you'll want to pay for. For this reason, it's important that you ensure your transmission is running smoothly.
Changing the transmission fluid may cost you some money initially, but the amount you'll pay pales in comparison to the amount you might have to pay for repairs or a replacement. Think of transmission fluid changes as investments in your vehicle. They're small, affordable investments that could go on to save you thousands of dollars over time.
In Need of a Transmission Flush or Transmission Repair in Elmhurst?
Is your car ready for a transmission fluid change? Looking for a transmission flush in Elmhurst, Illinois? If so, King Transmission Company is the company to call.
As one of the leading transmission repair shops in the Elmhurst area, we've serviced thousands of vehicles over the years. Serving all makes and models, we'll have your vehicle running optimally in no time.
Schedule an appointment by contacting us today!