08 Nov

Five Signs That It's Time to Visit a Transmission Repair Company in Melrose Park, Illinois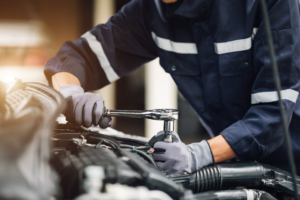 A vehicle is only as reliable as its transmission. If the transmission fails, the entire vehicle will soon fail as well. As such, it's important that you keep tabs on your transmission, and take it into the shop as needed.
But the question is: how can you tell whether it's time to visit a transmission repair company in Melrose Park, Illinois? If you notice any of the following five signs, you may want to have your transmission inspected by a professional:
1. Your Transmission Fluid Is Black
A sure sign that you need the services of a Melrose Park transmission repair company is that your transmission fluid is black. If this is the case, it's because it's literally burnt up, and it's become charred from years of consistent use.
The issue with charred and black transmission fluid is that it's sludgy. As such, it can't provide the lubrication that it's supposed to. This causes it to put undue wear and tear on the transmission, leading to efficiency and lifespan issues.
Accordingly, the second that you notice your transmission fluid is black, you should take your car in and have it flushed. Your local Melrose Park transmission repair company can flush it and replace it with fresh fluid.
2. Your Vehicle Emits a Burning Smell
Another sign that you might need a transmission repair is that your vehicle emits a burning smell. While there are several factors that can cause this, burnt transmission fluid is a common cause.
Again, you can verify whether the transmission fluid is the cause by simply looking at it. Is it black instead of reddish-brown? If so, it needs to be flushed and replaced. Your local transmission repair company in Melrose Park can get the job done.
3. Your Vehicle Bursts Forward Suddenly When Accelerating
Does your vehicle sometimes burst forward while it's accelerating? If so, you should know that this isn't normal. A vehicle should accelerate smoothly without any hitch or sudden burst.
What's causing this problem to occur? As you might expect, it's the transmission. In most situations, it's either lacking in lubrication, or one of its components is impaired. In either case, a change needs to be made.
If it's the former issue, a fluid flush and replacement is most likely the best course of action. If it's the latter issue, then you'll most likely need to have it worked on by a transmission repair company in Melrose Park. In any case, this is a problem that can be fixed.
4. Transmission Fluid is Leaking Under Your Vehicle
Another definite sign that your transmission needs attention is that there's transmission fluid leaking under your vehicle. Transmission fluid is never meant to leave the transmission. As such, if it does, you'll know that something is seriously wrong.
Odds are, there's a loose gasket or broken component somewhere. This may require an extensive inspection and repair, which should only be handled by an experienced transmission repair mechanic in Melrose Park.
5. Your Vehicle Whines While Accelerating
The last sign that your transmission requires a repair is that your vehicle whines while accelerating. This could also be coming from several other components, but the transmission is one of the most common ones.
Regardless, your vehicle should be inspected by a certified mechanic. They can get to the bottom of the issue and make the necessary repairs.
Looking for the Best Transmission Repair Company in Melrose Park, Illinois?
Is your vehicle showing signs of wear and tear? Are you looking for the best transmission repair company in Melrose Park, Illinois? If so, the professionals at King Transmission Company are here to help.
Our mechanics have repaired countless transmissions throughout Melrose Park and its surrounding areas. Regardless of the issue your transmission is facing, our team can help you. Contact us today to get started.