24 Aug

Four Transmission Maintenance Tips: Insights from a Transmission Repair Shop in Chicago, Illinois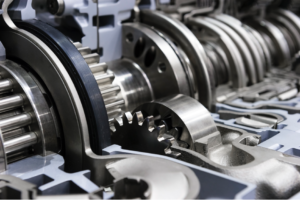 Over time, your vehicle's transmission is bound to take on a great deal of wear and tear. At some point, this wear and tear will lead to damage, which will prompt the need for either a repair or a replacement.
The goal should be to avoid transmission damage as much as possible. How can you do that? By regularly maintaining your transmission. Are you interested in learning more about transmission maintenance? This transmission repair shop in Chicago, Illinois is going to discuss four tips below.
1. Come to a Complete Stop Before Shifting
A common practice amongst drivers is to shift from drive to reverse (or vice-versa) while the car is still barely in motion. This can quickly cause issues with your transmission. Although the vehicle might not be moving fast, it still puts a great deal of strain on your transmission.
If you want your transmission to thrive for as long as possible, you'll want to make sure you stop your vehicle completely before shifting gears. Stopping completely allows the gears to shift to their correct position without getting jammed or slipping. From there, they can make a clean change, reducing stress and friction as much as possible.
Coming to a complete stop may add a second or two to your trip. However, that's a small amount of time to lose in exchange for a longer lifespan for your transmission.
2. Only Brake When Needed
Another thing that can place undue stress on your transmission is excess braking. Every time you apply the brakes on your vehicle, your transmission is forced to slow down suddenly. This, of course, places wear and tear on the transmission.
Now, everybody uses the brakes while driving in the Chicago traffic, so you can't eliminate this problem entirely. However, you can limit your brake usage, especially when in traffic jams and at stop lights. Once you're in a stationary position, you can remain there until it's absolutely time to move again. Your transmission will benefit from it.
3. Keep Up with the Cooling System
What does a vehicle's cooling system have to do with its transmission? Well, the cooling system helps to keep all the other working components inside of the vehicle cool.
This is important for the transmission, which carries transmission fluid. If transmission fluid gets too hot, it can burn up, making it difficult to function as intended. This can ultimately place undue strain on the transmission itself.
It's also important to keep an eye on your coolant and replace it when it's getting low. This simple act can make a world of difference. If your coolant levels are low, your local Chicago transmission repair specialist can help.
4. Have Your Vehicle Inspected by a Professional
While you can do a lot to protect your transmission, you can't do it all. There are some things that are better left to the professionals. One of these things is an inspection of your vehicle's internal components.
There are thousands of internal components, and they all work together to make your car go. The problem is, if one becomes impaired, many other components will suffer as well. For the untrained eye, this can be difficult to spot.
Professional auto mechanics in Chicago, fortunately, know everything there is to know about the internal components of automobiles. They can inspect your vehicle on a regular basis to ensure that everything is working as intended.
We recommend bringing your vehicle to a Chicago transmission repair specialist for a yearly inspection to catch small problems before they turn into bigger ones.
Looking for a Transmission Repair Shop in Chicago, Illinois?
Do you need help maintaining your transmission? Looking to schedule transmission maintenance in Chicago, Illinois? If so, we here at King Transmission Company are the people to see.
Our Chicago transmission mechanics have maintained countless automobiles throughout the city. Serving all makes and models, we'll do everything necessary to keep your transmission running smoothly.
Contact us today to schedule an appointment.