24 Jul

Four Signs That It's Time for a Transmission Repair: Insights from a Transmission Repair Shop in La Grange, Illinois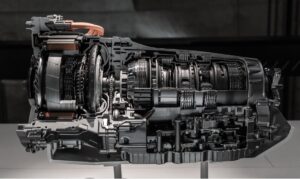 Your vehicle's transmission is key to its overall operation. If the transmission goes bad, so too will the entire vehicle. For this reason, when transmission problems start to present themselves, it's important to nip them in the bud as quickly as possible.
The question is: how can you tell whether your transmission needs a professional repair? The answer? By looking out for a few specific signs. Without further ado, here are four signs that you should schedule an appointment at a transmission repair shop in La Grange, Illinois:
1. Your Transmission Fluid Is Black
Transmission fluid should have a reddish-brown color. Unfortunately, over time, this fluid burns up and turns black.
The issue here isn't the color change — it's the consistency change that comes along with it. Reddish-brown transmission fluid is syrupy, capable of providing lubrication to the components within the transmission. On the other hand, black transmission fluid is tarry and ill-equipped to provide proper lubrication.
In other words, black transmission fluid simply doesn't perform its job. As soon as you notice this issue, it's recommended that you have the fluid flushed and replaced. Your local transmission repair shop in La Grange, Illinois can help you get the job done.
2. Your Car Has a Burning Smell
Another sign that you might need a transmission repair is that your car has a burning smell. Yes, this burning smell could be coming from a variety of sources. However, burnt transmission fluid is a common culprit.
Again, this has to do with the burning effect that transmission fluid is subjected to over time. Not only does it visually appear burnt, but it smells like it's burnt as well.
Until you have the fluid flushed and replaced, your transmission is going to struggle. It's best to bring your car to a reputable transmission repair shop in La Grange and have them take care of it.
3. Your Vehicle Hesitates and Jumps When Accelerating
Picture this: you push your foot down on the gas pedal, and your car starts to take off. Then, suddenly, it slows down…only to burst forward quickly a second later. In other words, it might feel like your car is "jumping" sporadically.
Now, why is this happening? As you might expect, it's often due to an impairment within the transmission. This impairment is hurting the performance of the transmission's gear set, causing the gears to slip and jam at random.
Odds are, this is due to low or deteriorated transmission fluid. Fortunately, this is a problem that can quickly be fixed. You can take your vehicle to your La Grange transmission repair shop and have them flush out the existing fluid. Once it's filled with fresh fluid, it should start running as intended again.
4. There's a Leak Under Your Vehicle
The last sign that you might need a transmission repair is that you notice a transmission fluid leak under your vehicle. Now, what does transmission fluid look like? As we mentioned above, it has a reddish-brown tint to it (unless it's old and deteriorated — in which case, it would be black).
Transmission fluid should never, under any circumstances, be leaking from your vehicle. If it is, it's because your transmission has taken on damage in one or more of its components. A repair or replacement will be necessary.
Are You Looking for a Transmission Repair Shop in La Grange, Illinois?
Is your transmission giving you issues? Do you need a transmission repair in La Grange, Illinois? If so, we here at King Transmission Company are the people to see.
As the premier transmission repair shop in the La Grange area, we have repaired countless transmissions over the years. Regardless of your vehicle's make and model, we can help. Contact us today to get started.